The Adams Family
PRESENTS
Mickey Callaway
WHY???
Mickey is our nephew. Updated 9-01-2003

Texas Rangers
8-30-2003
Mickey Callaway pitched five shutout innings Saturday before giving up the game's only two runs in the sixth.
The Rangers signed Mickey Callaway earlier this month after he was released by Anaheim. Callaway made the most of his latest chance on Saturday night, pitching six strong innings in the Rangers' 2-0 loss to the Twins. Johan Santana pitched six shutout innings for Minnesota and Shannon Stewart drove in the game's only two runs.
Mickey Callaway made the most of his Saturday night, pitching six solid innings against AL Central contender Minnesota, which got strong pitching of its own in a 2-0 victory.
Callaway held the Twins scoreless on two hits for the first five innings. He then allowed the first three batters to reach in the sixth, leading to two runs.
The Rangers are searching for such results. And if they can't get     them from their own farm system, they'll search elsewhere, even the scrap heap.
As the season has progressed, the Rangers have grown frustrated with the lack of progress by heralded prospects Colby Lewis and Joaquin Benoit. They are a combined 14-14 with a 6.87 ERA for 192 2/3 innings. They each are approaching 30 career starts.
In case the duo doesn't make progress, the Rangers want insurance. That's why they grabbed Callaway when Anaheim released the 28-year-old right-hander earlier this month. The Rangers remembered Callaway as the pitcher who held them scoreless for six innings in the second game of the season, so they took a chance.
After Callaway made four starts for Triple-A Oklahoma, the Rangers gave him his chance Saturday. His night might well turn into an instructional video for the Rangers' minor leaguers. Three important factors in pitching at The Ballpark in Arlington are not allowing walks, keeping the ball in the park and getting ground balls.
Callaway didn't walk anybody in six innings. He allowed five hits, four singles and a double. He got 11 outs on ground balls or strikeouts. And when he left after six innings, his outing qualified as a quality start.
It was only one start, which doesn't determine anything, but you can be pretty sure it will earn Callaway more chances with the Rangers.
Friday Aug 22, 2003
The Oklahoma RedHawks inched closer to the division-leading Nashville Sounds after a 9-2 victory Thursday at Greer Stadium in Nashville, Tenn.
Mickey Callaway(3-0) gave up two runs -- one earned -- and five hits with four strikeouts over six innings to get the win.
Jeff Pickler doubled and drove in three runs as the RedHawks (68-65) closed to within four and one-half games of the first-place Sounds (72-60).
Oklahoma sent 14 men to the plate and rallied for eight runs in the seventh inning after trailing 2-0. The rally was highlighted with a base clearing double to left center by Pickler to snap a 2-2 tie.
Prior to the go-ahead hit by Pickler, Mike Lamb and Gerald Laird each laced RBI doubles to erase the two-run deficit and Paul Ottavinia, Jermaine Clark and Marshall McDougall all added a run-scoring single to extend the RedHawks lead to six.
Ryan Christenson walked three times and scored a pair of runs for Oklahoma, which has won seven of eight games.
8-16-2003
Saturday Aug 16, 2003
The Oklahoma RedHawks pitching staff extended their dominance of the Fresno Grizzlies hitters, combining for their second straight shutout with a 1-0 victory Saturday night at SBC Bricktown Ballpark. The victory evened the RedHawks' season record at 64-64 and was their fifth win in six games.
Mickey Callaway (2-0), Dan Murray and Reynaldo Garcia combined for a four-hit shutout of the Grizzlies as the RedHawks posted back-to-back shutouts for the first time this season. The Oklahoma pitching staff has not allowed a run in 21 straight innings.
With the RedHawks pitchers in control the outcome swung in the fifth inning. After Gerald Laird led off with a bunt single against Boof Bonser (0-1), Paul Ottavinia doubled to give the Oklahoma a 1-0 lead.
Callaway allowed just three hits through five innings before giving way to Murray in the sixth. Garcia, was called on with runners at second and third with two outs in the eighth inning. He struck out Francisco Santos and then struck out two more in the ninth to pick up his seventh save of the year.
TEXAS RANGERS SIGN RHP MICKEY CALLAWAY TO OKLAHOMA CONTRACT
The Texas Rangers announced today that the club has signed free agent RHP MICKEY CALLAWAY to a contract with Oklahoma of the Pacific Coast League.
Callaway joined the RedHawks today.
Callaway, 28, was 1-4 with a 6.81 ERA in 17 games/four starts with the Anaheim Angels this season before being released on July 28. He was on the 15-day disabled list from June 6-July 23 with tendonitis in right shoulder and went 1-0, 2.95 ERA in seven games on rehab assignment at Salt Lake City in that span.
Callaway has a career Major League record of 4-7 in 30 games/14 starts with the Tampa Bay (1999; 2001) and Anaheim (2002-03). The right-hander was 2-1, 4.19 in six starts with the Angels and 9-2, 1.68 ERA in 17 games/14 starts at Salt Lake City in 2002.
Previous history while with The Anaheim Angels::::::::::::::::::::::::::::::::::::::::::::
Angels ring up Rangers, 10-0 (4-1-03)
The Angels received their rings in a pregame ceremony and then played like champions during a 10-0 rout of the Rangers on Tuesday night. Mickey Callaway threw six shutout innings and Brad Fullmer homered in the third inning to lead the offense.
As of the start of the 2003 season:::::::::::

It's a long way from G'town to Anaheim
On baseball
By Don Wade
waded@gomemphis.com


April 1, 2003
This pitching story eventually takes us to California, where tonight Mickey Callaway starts for the Anaheim Angels just minutes after the team receives its World Series rings.
But the story begins the way most pitching stories begin:
Back home, back in the bubble gum and baseball card days of childhood, back when a Germantown boy named after Mickey Mantle started to realize his gift.
Mickey Callaway could always throw a baseball easily, which is the way a boy throws when he throws hard. And Mickey threw hard, hard enough to bruise little hands if they didn't catch the ball in the glove's pocket.
So by age 11 or 12 - he's not sure when exactly - Mickey started having a problem:
Nobody wanted to play catch with him.
But this is how it is with most future big-league pitchers. They grow up in their little part of the world as a miniature Nolan Ryan or Randy Johnson, striking out hitters helplessly waving little metal wands.
And a dream starts to grow.
"I just had a feeling about him," says his sister Callie, who at 28 is a year older than Mickey. "He knew he was really good, but he wasn't cocky.
"He knew if he worked hard, he had a real shot at it."
Blessing in disguise
What he couldn't know was that he would hurt his right arm while pitching for Germantown High, his fastball already having been ticketed for traveling in the mid-90s.
It could have been the beginning of the end, for that's an oft-told pitching story, too. Instead, it was the beginning of the beginning, the genesis for transforming from thrower to pitcher.
"After I hurt my arm, I never threw as hard again," he says. "So I had to learn how to pitch."
I had to learn how to pitch. That, too, is a line in every pitching story that comes this far.
By 1999, Callaway was making his major-league debut with the Tampa Bay Devil Rays, pitching in five games with a 1-2 record and 7.45 earned run average. It would take two more years just to get his next five big-league innings.
Last year, he went 2-1 with a 5.52 ERA over six starts for the Angels and was in uniform - though not on the active roster - throughout the playoffs and World Series.
A strong spring and another pitcher's injury cleared his path to the mound tonight. He will carry with him Callaway calm and confidence and what his pitching coach, Bud Black, calls "pitchability."
"He has four quality pitches he can throw anytime," Black says, describing his fastball as "very capable" and his curve, split-finger and change as "secondary pitches very complementary to his fastball."
Not exactly the same as saying this guy brings the heat, is it? But then with his fastball now in the 88-to-91 mph range, what Callaway brings is the lukewarm.
Building a better pitcher
Thing is, lukewarm works if tactically placed. The changeup makes the fastball look faster. The fastball is then just fast enough that the dipping split-finger cousin can trick a hitter.
"You get to a point in your career where you haven't quite made it and you figure out what you have to do - make changes in your game," says Callaway. "I throw everything differently from when I came up in '99."
The split-finger fastball, which is a love/hate pitch because it can fool hitters and fry elbows, he didn't throw at all. There were two reasons for this:
Stubbornness and fear.
About the stubbornness, Callaway laughs and says, "We all think we're good enough at the time - a confident young pitcher."
When he speaks of the fear, you can still hear it walking around somewhere deep in his mind, the place where he ultimately decided to trade greater safety for a chance at greater success.
He calls the split-finger one of those "more risky pitches," but says his throwing it is a sign of him becoming "a little more mature."
This is how pitchers - not throwers - talk.
These are the choices that 95 percent of the guys pitching in the big leagues eventually have to make.
Or as Black says, "Now's the time. The developmental stage is over."
Perhaps, there is already proof.
Sister Callie - and what are sisters good for if not telling on brothers - reports that Mickey bought himself the new PlayStation major-league baseball game.
"He had to see how he looked on it," she says.
"I simulated a season and I went 18-7," says The Mick. "That would be kind of nice."
So who says you need to bring the heat?
Bring on the 18-7 pitchability. Check out The Commercial Appeal at www.gomemphis.com
Other April 1, 2003 news items: HERE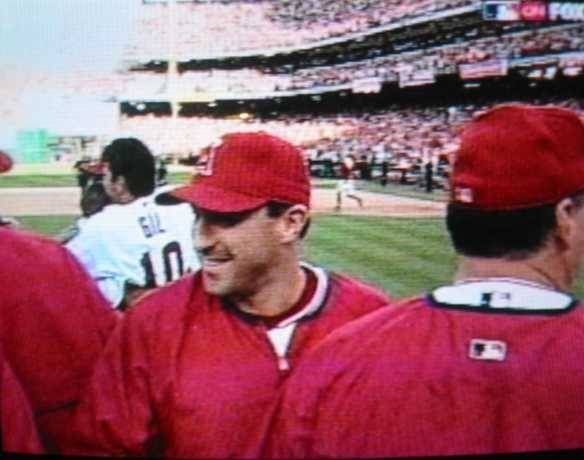 ..Mickey leaving the dugout after Saturday's win
during the 2002 World Series
……….

<![if !supportLineBreakNewLine]>
<![endif]>