The Adams Family
PRESENTS
The Anaheim Angels
Page 2

<![if !supportLineBreakNewLine]>
<![endif]>
As of the start of the 2003 season:::::::::::
March 30, 2003:
Angels finalize 25-man roster
By Doug Miller / MLB.com
ANAHEIM, Calif. -- The Angels announced their 25-man roster for Opening Day on Saturday, and outfielder Julio Ramirez won the three-man competition for the fifth outfielder's spot, which was the only opening on the club.
The Angels will break camp with an expected 11-man pitching staff consisting of starters Jarrod Washburn, Kevin Appier, Ramon Ortiz, John Lackey and Mickey Callaway.
Their relievers are Brendan Donnelly, Ben Weber, Scot Shields, Scott Schoeneweis, Francisco Rodriguez and Troy Percival.
Aaron Sele (recovering from shoulder surgery) and Matt Wise (out for season with torn elbow ligament) begin the year on the disabled list.
March 27: TEMPE, Ariz. (AP) _ Mickey Callaway allowed three runs in six innings and stuck out six Thursday as the Anaheim Angels beat the Chicago Cubs 4-3 in their final spring game in Arizona.
Callaway was tuning up for his starting assignment against the Texas Rangers next Tuesday night in the Angels' second game of the season.
Callaway, 2-1 with a 4.19 ERA in six starts for the Angels last season, won a spot in the Angels' rotation because injuries set back starters Aaron Sele and Jarrod Washburn. Sele will open the season on the 15-day disabled list.
``I think as this guy gets experience in facing a group of hitters, you see that he starts to make adjustments,'' Angels manager Mike Scioscia said. ``Today, Mickey did what he does best _ he changed speeds. From his first start of the spring until now, he's really gotten into his groove. He knows what it takes to get hitters out.''
Sammy Sosa and Alex Gonzalez each hit their third homer of the spring off Callaway _ Sosa in the first and Gonzalez in the sixth. Shawn Estes gave up eight hits and four runs in seven innings for the Cubs.<
Mar. 25 (USA Today) Mickey Callaway will start the season off as the Angels' No. 5 starter, though he will actually pitch their second game while Jarrod Washburn gets some extra rest. Callaway will be skipped the second time through the rotation, according to the LA Times.
Spring training means everything, or nothing
By Rod Beaton, USA TODAY 3-18-2003
MESA, Ariz. ó The first month of spring training is a lot of meet and greet, morning workouts and 18 holes in the afternoon. In these last two weeks, something more serious occurs ó fights for major league jobs that pay $300,000 minimum and lead to much more earning powerÖÖÖÖ.The World Series champion Anaheim Angels are watching rookie right-hander Mickey Callaway (one run, seven strikeouts and no walks in nine innings) possibly muscle into their rotation.
Callaway cruising through spring.
Right-hander has been Angels' best starter.
TEMPE, Ariz. --(3-11-2003) Mickey Callaway is well aware of the urgency of the situation.
With Aaron Sele out indefinitely as he recovers from shoulder surgery, Scott Schoeneweis so effective as a left-handed reliever and injured Matt Wise waiting on the results of an MRI, the Angels' job opening for a fifth starter can be his if he earns it in Spring Training.
Callaway is out of options, which means he'll be put on waivers and rendered available to any Major League team if he doesn't make the Opening Day roster.
He's responding to that challenge strongly, as evidenced by his four shutout innings on 45 pitches in Tuesday's 5-4 win over the San Francisco Giants.
Callaway has been the best Angels starter in camp so far. In three starts, he's given up a total of one run (1.00 ERA) on five hits while striking out seven and not walking a batter. Opposing teams are batting .161 (5-for-31) against him.
"Mickey picked it up today," Scioscia said. "His velocity was good, his command was where it needed to be, and his curveball was sharp. Any time a guy goes out and pitches the way Mickey pitched today, it doesn't hurt."
Schoeneweis struggles: Schoeneweis wasn't nearly as successful as Callaway, although he qualified for the win. Schoeneweis gave up four runs on six hits and two walks in two innings, pushing his Spring Training ERA to 17.55. In 6 2/3 innings, he's given up 13 runs on 18 hits.
"He's having trouble repeating pitches," Scioscia said. "Today he didn't show the real good sinker he's had in the past. He had trouble putting hitters away."
Rotation rumblings: Angels manager Mike Scioscia said Sunday that the club will likely use a four-man starting rotation to start the season. If that's the case, it will be Jarrod Washburn, Kevin Appier, Ramon Ortiz and Lackey.
The Angels have three off days among their first eight games, so Scioscia won't have to use a fifth starter until the April 14 game in Texas. Right-hander Aaron Sele would be the fifth starter, but he might be out until June as he recovers from offseason shoulder surgery. With that in mind, the Angels are staging a sort of unofficial audition for the No. 5 spot.
On Sunday, two of the pitchers battling for that spot -- left-hander Scott Schoeneweis and right-hander Mickey Callaway -- threw two innings apiece in the Angels' 8-7 loss to the Colorado Rockies.
Schoeneweis struggled, giving up four runs on five hits in two innings, but Callaway shined, giving up one hit in two scoreless frames.
Callaway said he and pitching coach Bud Black have been working on a different follow-through and that it's paid off.
"It helps my location, and since I can't throw it 92, 93 mph, location is everything for me," Callaway said.

http://angels.mlb.com/NASApp/mlb/ana/team/ana_team_40manroster.jsp
UPDATE 10-05-2002
Picture of Mickey leaving the dugout for the clubhouse after Saturday night's slaughter of the Yankees.
<![if !vml]>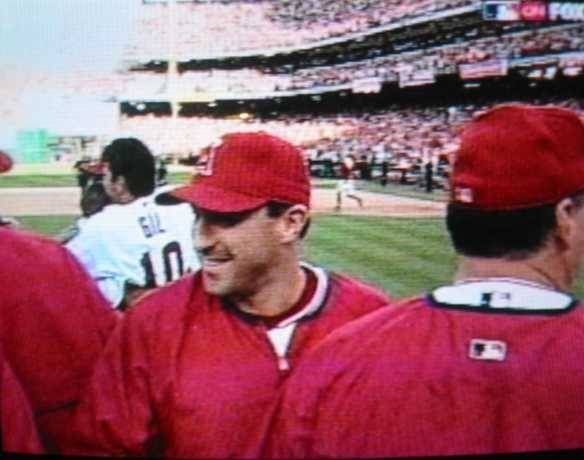 <![endif]>
With the win, the Angels closed out the Yankees, three games to one, and won a playoff series for the first time in the 41-year history of the franchise. Anaheim will play the winner of Sunday's Oakland-Minnesota match up in the American League Championship series that begins Tuesday.
Reporter David Williams, Commercial Appeal, 10-03-2002
Local pitcher likes view of playoffs
So there he sat in Yankee Stadium, that grand old palace of baseball, a house not so much haunted by ghosts as blessed by them. Yankee Stadium, in October. Yankee stadium, in full postseason roar.
"Everything about it," says Mickey Callaway, Anaheim Angels pitcher by way of Germantown High and Ole Miss, "is wonderful." Itís the morning after the night before, and Callaway is calling from New York. If he sounds as much like a wide-eyed tourist as a major leaguer, thatís because heís a little bit of both ó this is his first time in the city, and though heís in uniform, heís not actually on the Angels roster for this five-game series.
But try telling this Mickey named Callaway ó who was nicknamed, after a Mickey named Mantle ó that heís not up to his wide eyes in something special. "Itís by far the biggest game Iíve ever gotten to be a part of," he says Wednesday morning about Tuesday nightís Game 1, an 8-5 comeback Yankee triumph.
It felt like it was the ninth inning and two outs, every pitch. Yeah, anytime they had two strikes and (Roger) Clemens was going for a strikeout. Anytime they had men on base... everybody was on their feet cheering like it was the ninth inning."
Callaway, a 27-year-old right-hander, may yet appear in this series, which after Wednesday nightís 8-6 Angels victory heads to Anaheim for Fridayís Game 3 tied 1-1. He could be a teammateís injury away from being activated.
And if the Angels beat the Yankees, Callaway could be on the Anaheim roster for the American League Championship Series.
"Either way, itís going to be something that not too many people in this world get to do," says Callaway, who by most appearances is an active player in this series ó heís on the team motorcade to the stadium, heís in the clubhouse, heís in the dugout; heís just not in the games.
"Itís always been my dream to be able to play in the postseason, and go to the World Series.
"If I donít get to pitch, then I think Iíll be fine with that, too."
And why not? Heís still putting on a baseball uniform, at this late date of the season. That didnít happen with Tampa Bay, the team that drafted him in 1996, the team for which he made his big-league debut in 1999, and the team that traded him last December. "Itís been a huge turnaround," Callaway said.
Callaway may or may not pitch in this post-season, but heís done the next-best thing: Heís pitched in games that matter.
After pitching brilliantly. for Class AAA Salt Lake this summer ó 9-2 with a 1.68 ERA, earning the organizationís minor league Pitcher of the Year award he was called up by the Angels on Aug. 25. Through his first three starts, he was 1-0 with a 1.86 ERA. Callaway didnít survive the fourth innings of two September starts against Oakland, but he beat Seattle in his last start, pitching a career-high eight innings.
"I know I can pitch in the big leagues now, -says Callaway, 2-1 with a 4.19 ERA as an Angel "Iíve talked to the manager and pitching coach pretty extensively since Iíve been up here ó just talking about how I fit in the organization and what the plans are for me next year. I think it looks like a pretty good situation."
But thatís next year, and it can wait. This season is a story still being told.
Even if he doesnít pitch in this past season, Callaway knows: Like Yankee Stadium itself, heís blessed.
ÖÖÖ.


<![if !supportLineBreakNewLine]>
<![endif]>